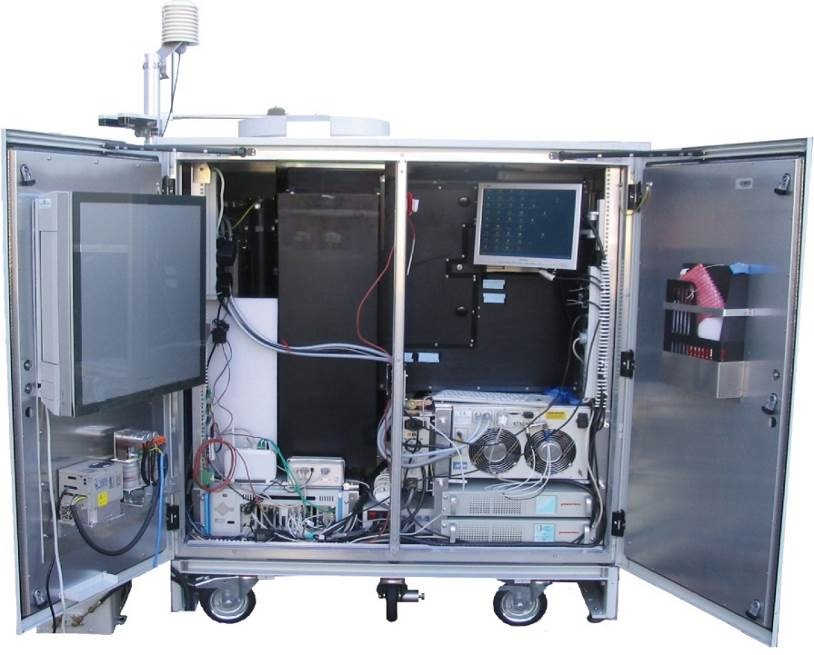 The PollyXT lidar will operate to measure aerosol loads in the boundary layer. The system is provided by the TROPOS Institute (http://www.tropos.de) and will employ a near-range channel so as the detection of particles in low altitudes will be feasible. Moreover, the PollyXT operates 3 backscatter channels, 2 Raman extinction channels, 2 depolarization channels and one water–vapor sensitive channels (407 nm). The near range receiver at 532 and 607nm channels, provides a full overlap in 120m above ground. All data are currently collecting on the web page of PollyNet (http://polly.tropos.de) where the quicklooks of all measurements are available.
The lidar is housed in an outdoor cabinet and can be operated under various climatic conditions. The full description of the original lidar systems can be found in [Althausen, et al. 2009, Engelmann, et al. 2012].
For studies within the shallow maritime boundary layer, and for closure observations with ground–based in–situ measurements, measurements close to the lidar are required. With PollyXT a separate 50–mm refractor telescope is included to the design at a distance of 120mm from the axis of the laser beam. The conducted near–range observations can be used independent for the lidar data analysis, but provide another chance for data quality control and overlap determination of the far–range receiver as well.
Products
Level 0 products retrieved by PollyXT include range-corrected backscatter signals at 355, 532 and 1064 nm.
Level 2 and Level 3 products include vertical profiles of backscatter, extinction, depolarization, lidar ratio, angstrom exponent and water vapor mixing ratio.
| Measurement | Start time | Duration |
| --- | --- | --- |
| PollyXT | July 21, 2014, 6 p.m. | 6 hours |
| PollyXT | July 21, 2014, noon | 6 hours |
| PollyXT | July 21, 2014, 6 a.m. | 6 hours |
| PollyXT | July 21, 2014, 12:04 a.m. | 6 hours |
| PollyXT | July 20, 2014, 6 p.m. | 6 hours |
| PollyXT | July 20, 2014, noon | 6 hours |
| PollyXT | July 20, 2014, 6 a.m. | 6 hours |
| PollyXT | July 20, 2014, 12:04 a.m. | 6 hours |
| PollyXT | July 19, 2014, 6 a.m. | 6 hours |
| PollyXT | July 19, 2014, 12:04 a.m. | 6 hours |
| PollyXT | July 18, 2014, 8:39 p.m. | 6 hours |
| PollyXT | July 18, 2014, 6 p.m. | 6 hours |
| PollyXT | July 18, 2014, noon | 6 hours |
| PollyXT | July 18, 2014, 6 a.m. | 6 hours |
| PollyXT | July 18, 2014, 12:04 a.m. | 6 hours |
| PollyXT | July 17, 2014, 6 p.m. | 6 hours |
| PollyXT | July 17, 2014, 3:31 p.m. | 6 hours |
| PollyXT | July 17, 2014, 12:17 p.m. | 6 hours |
| PollyXT | July 17, 2014, 12:04 a.m. | 6 hours |
| PollyXT | July 16, 2014, 6 p.m. | 6 hours |
| PollyXT | July 16, 2014, noon | 6 hours |
| PollyXT | July 16, 2014, 6 a.m. | 6 hours |
| PollyXT | July 16, 2014, 12:04 a.m. | 6 hours |
| PollyXT | July 15, 2014, noon | 6 hours |
| PollyXT real time | July 15, 2014, noon | 6 hours |
| PollyXT | July 15, 2014, 10:55 a.m. | 6 hours |
| PollyXT | July 11, 2014, 6 p.m. | 6 hours |
| PollyXT | July 11, 2014, noon | 6 hours |
| PollyXT | July 11, 2014, 6 a.m. | 6 hours |
| PollyXT | July 11, 2014, 12:04 a.m. | 6 hours |
| PollyXT | July 10, 2014, 6 p.m. | 6 hours |
| PollyXT | July 10, 2014, noon | 6 hours |
| PollyXT | July 10, 2014, 9:14 a.m. | 6 hours |
| PollyXT | July 10, 2014, 8:06 a.m. | 6 hours |
| PollyXT | July 10, 2014, 6 a.m. | 6 hours |
| PollyXT | July 10, 2014, 12:04 a.m. | 6 hours |
| PollyXT | July 9, 2014, 8:17 p.m. | 6 hours |
| PollyXT | July 9, 2014, 6 p.m. | 6 hours |
| PollyXT | July 9, 2014, noon | 6 hours |
| PollyXT | July 9, 2014, 6 a.m. | 6 hours |
| PollyXT | July 9, 2014, 12:04 a.m. | 6 hours |
| PollyXT | July 8, 2014, 6 p.m. | 6 hours |
| PollyXT | July 8, 2014, noon | 6 hours |
| PollyXT | July 8, 2014, 6 a.m. | 6 hours |
| PollyXT | July 8, 2014, 12:04 a.m. | 6 hours |
| PollyXT | July 7, 2014, 6 p.m. | 6 hours |
| PollyXT | July 7, 2014, noon | 6 hours |
| PollyXT | July 7, 2014, 6 a.m. | 6 hours |
| PollyXT | July 7, 2014, 12:04 a.m. | 6 hours |
| PollyXT | July 6, 2014, 6 p.m. | 6 hours |
| PollyXT | July 6, 2014, noon | 6 hours |
| PollyXT | July 6, 2014, 6 a.m. | 6 hours |
| PollyXT | July 6, 2014, 12:04 a.m. | 6 hours |
| PollyXT | July 5, 2014, 6 p.m. | 6 hours |
| PollyXT | July 5, 2014, noon | 6 hours |
| PollyXT | July 5, 2014, 6 a.m. | 6 hours |
| PollyXT | July 5, 2014, 12:04 a.m. | 6 hours |
| PollyXT | July 4, 2014, 6 p.m. | 6 hours |
| PollyXT | July 4, 2014, noon | 6 hours |
| PollyXT | July 4, 2014, 6 a.m. | 6 hours |
| PollyXT | July 4, 2014, 12:04 a.m. | 6 hours |
| PollyXT | July 3, 2014, 6 p.m. | 6 hours |
| PollyXT | July 3, 2014, noon | 6 hours |
| PollyXT | July 3, 2014, 6 a.m. | 6 hours |
| PollyXT | July 3, 2014, 12:04 a.m. | 6 hours |
| PollyXT | July 2, 2014, 6 p.m. | 6 hours |
| PollyXT | July 2, 2014, noon | 6 hours |
| PollyXT | July 2, 2014, 10:48 a.m. | 6 hours |
| PollyXT | July 2, 2014, 6 a.m. | 6 hours |
| PollyXT | July 2, 2014, 12:04 a.m. | 6 hours |
| PollyXT | July 1, 2014, 6 p.m. | 6 hours |
| PollyXT | July 1, 2014, noon | 6 hours |
| PollyXT | July 1, 2014, 6 a.m. | 6 hours |
| PollyXT | July 1, 2014, 1:29 a.m. | 6 hours |
| PollyXT | June 30, 2014, 6 p.m. | 6 hours |
| PollyXT | June 30, 2014, noon | 6 hours |
| PollyXT | June 30, 2014, 6 a.m. | 6 hours |
| PollyXT | June 30, 2014, 12:04 a.m. | 6 hours |
| PollyXT | June 29, 2014, 6 p.m. | 6 hours |
| PollyXT | June 29, 2014, noon | 6 hours |
| PollyXT | June 29, 2014, 9:24 a.m. | 6 hours |
| PollyXT | June 29, 2014, 9:16 a.m. | 6 hours |
| PollyXT | June 29, 2014, 12:04 a.m. | 6 hours |
| PollyXT | June 28, 2014, 6 p.m. | 6 hours |
| PollyXT | June 28, 2014, noon | 6 hours |
| PollyXT | June 28, 2014, 6 a.m. | 6 hours |
| PollyXT | June 28, 2014, 12:04 a.m. | 6 hours |
| PollyXT | June 27, 2014, 6 p.m. | 6 hours |
| PollyXT | June 27, 2014, noon | 6 hours |
| PollyXT | June 27, 2014, 10:20 a.m. | 6 hours |
| PollyXT | June 27, 2014, 12:04 a.m. | 6 hours |
| PollyXT | June 26, 2014, 6:23 p.m. | 6 hours |
| PollyXT | June 26, 2014, 6 a.m. | 6 hours |
| PollyXT | June 26, 2014, 12:04 a.m. | 6 hours |
| PollyXT | June 25, 2014, 6 p.m. | 6 hours |
| PollyXT | June 25, 2014, noon | 6 hours |
| PollyXT | June 25, 2014, 6 a.m. | 6 hours |
| PollyXT | June 25, 2014, 12:04 a.m. | 6 hours |
| PollyXT | June 24, 2014, 6 p.m. | 6 hours |
| PollyXT | June 24, 2014, noon | 6 hours |